We hosted the 3rd Wellington Hashgraph meetup a few days ago and had some international guests from around the world. About 15 people turned up so we are slowly growing (some new faces) and again, food and drinks were provided as well.
We had developers Magnus Bondesson, Chi Hao Poon, Jonas Wallenius and Patrik Åkerlund join from Sweden to talk about their interesting game called BlockWars. (https://blockwars.live/)
BlockWars is a map based war game running on the Ethereum blockchain and the team is looking to port this over to Hashgraph. The idea is to conquer the world by owning territory similar to the board game Risk.
Above you can see Morne owning some territory in New Zealand and it was attacked by one of the BlockWars guys.
Afterwards we had Shiv Aggarwal, CEO of  MyEarth.id talk about this project of creating an decentralised identity management system. It is an ambitious project and they raising capital.
Afterwards, there was a good discussion about the up and coming hackathon and developers conference where we are looking to live stream the event.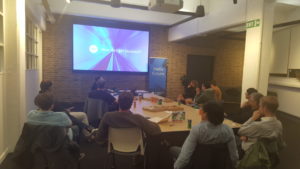 The next meetup is scheduled for October 17th 2018. More details can be found at:
https://www.meetup.com/Hashgraph-Wellington-New-Zealand/events/254083101/
See you there!