The Blockchain Association of NZ hosted the second Wellington executive blockchain breakfast this morning at the Bolten Hotel. We had a diverse range of people from Kiwibank, MBIE, lawyers from Bell Gully and Wakefield law, blockchain company founders and a few independents as well.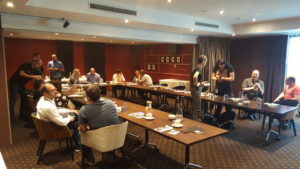 It was a great chance to network and connect more on a professional level in a more intimate session and also at a different time of the day. Half way through we played musical chairs and everyone got around to meet and connect with everyone else.
It was a buffet breakfast and the private room at the Bolton Hotel was fantastic. Thanks to everyone who turned up and special thanks to Wendy for helping to organise! See you all next year!