I had never been to a hackathon before so when I found out one was being held in Sydney I was super excited. It was called Blockathon: The Biggest Blockchain Hackathon in Australia and it was held this past weekend from the 24 -26 November 2017.
The great Bokky ran several workshops leading up to the hackathon exploring lots of potential projects. I found it very useful. It was like a pre-hackathon hackathon. Most of us didn't know each other, had never participated in a hackathon before and were all looking to understand how it worked and if our ideas were even worthy of entering.
In the workshop we discussed ideas, some people pitched theirs and some "fluid" teams were formed. We also chilled out and ate pizza too. It really was a pre-hackathon hackathon.
Then came the big day. Getting to the Michael Crouch Innovation Centre at the University of New South Wales was a little tricky but not impossible. It is a fabulous space though. Its concept is centred around a presentation space, a manufacturing space and a working space. Very clever!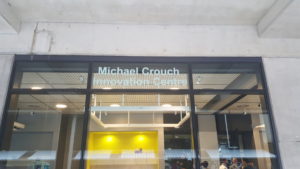 A pull up banner would have been nicer than a whiteboard but I can understand why the whiteboard was used.
Friday evening started with the traditional welcome, housekeeping and the all important prize pool from Daniel Bar, the lead organiser from http://www.bitfwd.xyz/
The mentors introduced themselves on stage. From left to right they were:
Adrian Ethereum expert, String Nyugen StringStory Media, Emma Weston CEO Agridigital, Luke Anderson Cybersecurity expert, Nick Addison CTO Agridigital, Bokky PooBah Ethereum expert and Weiwu Zhang Cryptography expert.
Those who didn't have a team came together and formed one before dinner was served.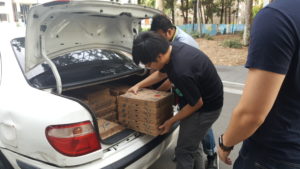 When a car comes with a boot load of pizzas, you know you're at a hackathon! Everyone then went up stairs to get settled in and claim their workspace.
Over the following day and a half all the teams were brainstorming, hacking and networking away during the meal breaks.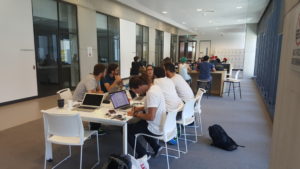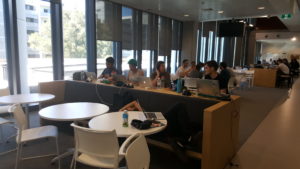 Then crunch time. On Sunday at 4pm the crowd started to gather. The pitch decks were submitted and judges at the ready.
The judges jumped on stage and introduced themselves. They (from left to right) were:
Dorjee Sun COO Santiment, Jason Williams CEO BitPOS, Emma Weston CEO Agridigital and Emma Poposka CEO BRONTECH.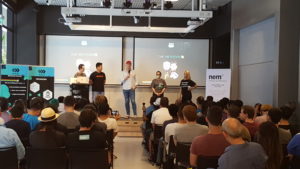 There were 13 teams. They were:
1. Flathead
2. OpenSymbol
3. The 26
4. Team Blockify
5. Credo
6. Team TimeBlock
7. Octio
8. ExpertChat
9. JOE
10. MoonGrade.com
11. Cryptips
12. Freebiz
13. StrataBlocks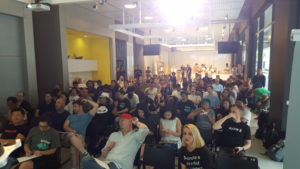 Each pitch was 4 minutes with a hard stop. I'm talking mid sentence hard stop. The hardest stop I've ever seen. Good on you Neto!
The pitches were great. The judges questions were challenging and it was really about the process or the journey, not the result.
The judges then went away and deliberated and came back to announce the winners. As Jason mentioned, it was super close and really could have gone either way on another day. However, the results were……
First place went to The 26 CryptoCats which was about digital assets on the blockchain. Second place was JOE, – Javascript On Everything where a light bulb was turned on using an arduino and an Ethereum smart contract. Third place was StrataBlock, placing strata data, (apartment maintenance info) on the blockchain.
The 26 (CryptoCats)
JOE
StrataBlocks
What could be improved?
If the website had a page of the transport options to get to MCIC UNSW it would have been very helpful. Being from out of town and having to rely on pubic transport I found it a little tricky but I treated it like The Amazing Race. I was determined to get there!
If each team had a table stand with their team name that would have helped to identify who's who.
Everything else though was perfect. A shout out to Daniel Bar and his team Vincent, Robin, Neto, Mark and co. It was very well organised.
The mentors and experts (mentioned up above) were wonderful giving up their time over the weekend wondering desk to desk, team to team sharing their experience, being a sounding board and also fixing code where required also.
Thanks to the sponsors BLOCK8, Tyro Fintech Hub, SatoshiLabs, Gaze Coin Pty Ltd, Olympus Labs, Hcash, Santiment and NEM.
There was heaps of food to go around, the space was large with enough work areas for loud collaboration or quiet time too.
It was an amazing conclusion to my 5 wk Australian blockchain landscape tour, meeting amazing, smart, talented and passionate people. Thank you Sydney (and Melbourne) and can't wait to come back next year!