Wellington Blockchain Meetup Oct 2017
As Christmas draws near, the Wellington community came out in force for another blockchain meetup. This month we had a number of speakers from the community sharing their experiences in the blockchain world.
I kicked things off with a talk on how I put my land title on the blockchain.
Jose Higino shared his experience with Steemit, the blockchain platform where content creators can paid and the content is locked on the chain. Find Jose's presentation notes, on Steemit of course, here.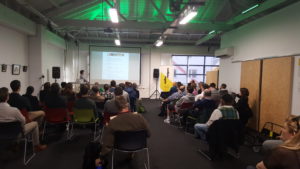 Tim Goggin talked about his experience of seeing how the state of Illinois are promoting grassroots communities and collaboration in the blockchain space with the launch of the Chicago Blockchain Center. See: US Government Supports Launch of New Chicago Blockchain Center
Our final speaker Hamish MacEwan gave a hands on demonstration on an array of hardware wallets. In particular, Hamish show how paper wallets and the ledger nano works.
Afterwards, we had the usual networking session also. Thanks to Jose, Tim and Hamish for contributing. I'm sure everyone managed to find something to suit their taste and walked away learning something new. Thanks again to BizDojo for hosting and see everyone next month.