Even as the crypto market continues to tank, the technology that underpins it is still going strong. Lots of very smart people are working very hard behind the scenes and lots more want to learn about blockchains. I had the chance to help train LG CNS (Consulting and Solutions, one of the business units) who were particularly interested in Quorum which is used for creating permissioned blockchains.
From our hotel room we could see the many buildings of LG CNS.
Security was very tight. Not surprising as it was around their R&D facility. We had to go through airport style x-ray scanners when leaving the building every day and have our laptops checked to make sure the serial number matched the one we registered with them.
The biggest challenge was actually the fact that we had a Korean interpreter for the entire 5 days. We had to speak slowly, clearly and pause after a few sentences to let the interpreter do her thing. It certainly did make things interesting!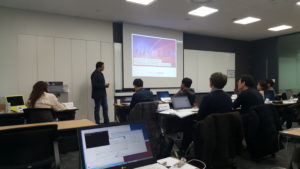 I teamed up with Carlos, who is the Global lead of Enterprise Education at ConsenSys Academy and has amazing knowledge of blockchains and is a world class trainer.
Day one was about blockchain fundamentals and talking about the Ethereum platform. On the second day, we looked at the architecture and then got all the students to come up with some ideas of practical blockchain use cases. On day three we looked at the tools such as Solidity, Truffle, Remix and Ganache. In the afternoon, all the students got their hands dirty with smart contract coding. Day four was what LG really wanted to know about which was Quorum and private transactions. We showed them how to create 3 nodes, and send a transaction between node 1 and 3 proving that node 2 could not see the message. We also showed them Kaleido which does all the heavy Quorum lifting for the user and is cloud based. The final day saw a demonstration of public blockchain integration along with the students continuing with their use case and actually building out their solutions along with a presentation.
It is a pretty full on 5 days and an and immense of information is covered. For anyone interested, be prepared to open learn like you've never learnt before.

There was of course time to check out the amazing food as well.