I landed in Sydney on the evening of Wednesday the 11th of October at 6pm and arrived at my apartment ready to chillax. I knew there was a Sydney Bitcoin meetup at the Metropolitan Hotel and was in two minds about attending. Being an introverted geek my first instinct was "Yeah, nah, I'll go next time". The uncomfortable feeling of walking into a room not knowing anyone and feeling awkward has been with me my whole life but on this occasion, I told myself to just get over it!
What transpired set the scene for the entire trip. I met Adriana, one of the meetup founder stalwarts and started asking a million questions. Sitting next to her was a guy called Jack who lives about an hour out of Sydney but makes the trip in to all these meetups. I was then introduced to Jason, the man with the red hat. The other founder of the meetup and respected community member.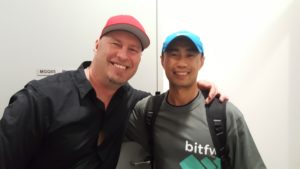 Adriana mentioned she was running a blockchain event at a co-working space called Fishburners as part of the Sydney Spark Festival Fintech event the following week. I ended up volunteering and had a blast.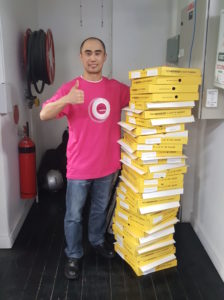 I learnt about Eventbrite, how to run an event, how to heard groups of people around and how to unpack full pizza boxes and take away empty pizza boxes!
It was at this event where out of the many people I met, I would end up meeting again and end up apologising for either forgetting their name or re-introducing myself only to be told "yeah, we met at insert event name here". Ooops
In particular I came across a guy by the name of Bokky PooBah and Matt Hale who I'll come back to.
Next up was the first ever Lisk meetup in Sydney. I attended this event by accident. A friend of mine Sanjeev was leaving work and mentioned that was attending a Lisk meetup and ask if I wanted to join. I was like "yeah, nah, yeaaah!".
There were lots of new announcements with Lisk and trying to increase the developer community.
After the Lisk meetup was the big one. The Sydney Ethereum meetup. I was forewarned by Jack that I had to be in quick so on Monday night at 6pm, 3 days before the meetup, it was opened for registration and I was ready. It was like trying to buy tickets for an All Blacks game on Ticketek. I got in! Whew.
On the night, there was a registration queue and we all had to take elevators up to the presentation floor at Optiver.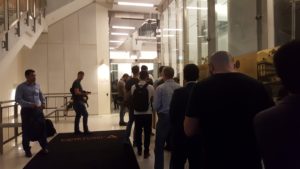 Again there were lots of pizzas and some great talks. The Jeremy the lead product engineer from OmiseGo talked about plasma and Nick one of the organizers talked about smart contracts.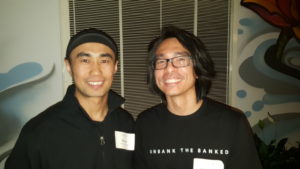 I then took a short trip down to Melbourne to check out the Melbourne blockchain centre. They have a great set up where it's a co-working space by day and a meetup event space by night. I booked my flights having  no idea it was Melbourne Cup week. Nevertheless I attended a meetup on trading run by Tomas.
I have no idea about trading but some of the technical analysis is phenomenal. candle sticks, bollinger bands, fibonacci, it was like maths back in high school. I wish I was taught this at high school though!
On Tuesday, the day of the Melbourne Cup, I went to Melbourne library where I had issues of my own!
On Wednesday night there was another crypto meet up run by Simon who does a great job chairing the meetup. The center has grown from strength to strength and recently it's standing room only.
Back in Sydney, I jumped on the Telegram group there and caught news of these Ethereum workshops that some guy called Bokky was running. I went along and found out that Bokky is legendary in Ethereum circles.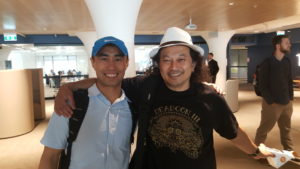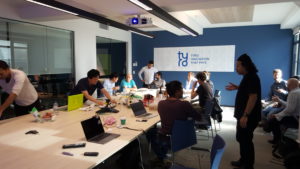 These workshops where from 5pm till 9pm'ish where we'd get together and go through various Ethereum based topics. Bokky does all things Ethereum related such as audit code for huge ICOs, creates Dapps and advises too.
On the evening of the 14th of November there was a clash. There was a "ConsenSys $50M Blockchain Fund + Community Pitches" and around the corner there was a "The Future of Bitcoin, Ethereum, ICOs & The Blockchain" hosted by Iress. A link to the recording can be found here.
Even with the clash, both events were sold out!
In the end, we all got an opportunity to take a selfie with "Satoshi" himself!
The highlight of the trip was really at the end where I participated in the Australian Blockchain Hackathon run by Daniel and his team at Bitfwd. Again, I ended up meeting Vincent who was part of the hackathon committee at Bokky's workshop and offered to help volunteer.
It was my first ever hackathon and it was an amazing experience. The people, the venue, the organization, it was really top notch.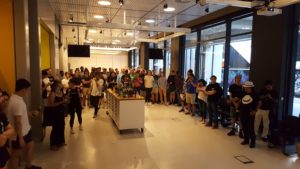 I ended up contributing to a project called JOE (Javascript On Everything) where a lamp would like up when test ether was sent to a smart contract.
When we moved everything downstairs, it stopped working. There was a mad rush to get it working again just minutes before the pitch!
It seems like such a long time ago and the thought that it all started with deciding to go to the Sydney Bitcoin meetup instead of staying at home. Looking forward to my next trip over to Australia!