The Hutt Valley STEM Festival was part of NZ tech week and I was asked to participate to talk on Technology and the New World of Work.
There were 4 speakers in total. Gary talking about the importance of collaboration and communications. I talked about the importance of learning STEM, blockchains and how collaboration helped me with my "Ubering Energy on the Blockchain" project. Malcom talked about a sprout device which is this amazing device that allows not only 3d modelling, but changes the way we interact with computers. Gordan, the local 3d printing expert talked about how 3d printers work with tips for those going down the 3d printing path.
The kids loved watching the 3d printer in action.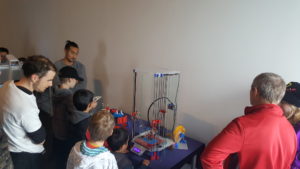 Gordon in action speaking about 3d printing.
Sean's household electricity distribution board connected to a raspberry pi and a mac. It measures electricity consumption and displays it on a webpage.
STEM, Blockchains and Collaboration presentation at the Dowse Art Museum.